Description
Add a punch to your bar game for your next party or kickback. Instead of popping cans open, pop off the entire can top for a unique drinking experience. Our Go Swing Can Opener fits right onto the top of your drink can for a clean, through cut. Removing the can top not only reduces pressure in carbonated beverages for a smoother pour (if you choose to pour into a glass), but also allows the full aroma of any drink or soda to really draw you in -- plus, an open can top means you can also spice up your beverage with garnishes for a glass-less drinking session.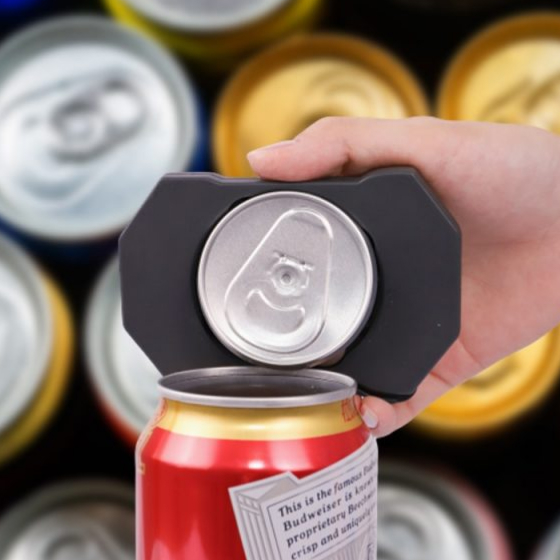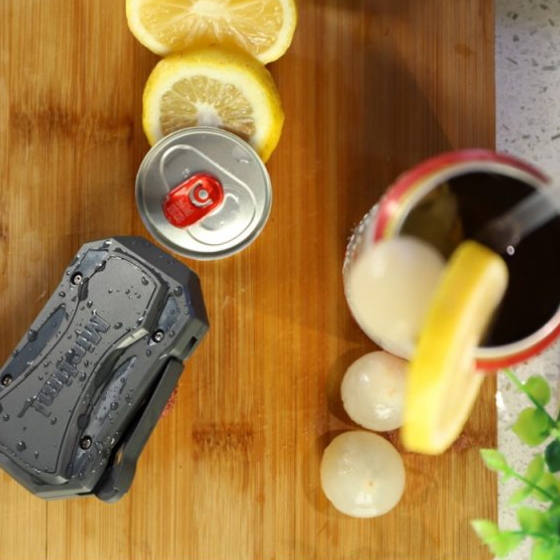 Built strong and sturdy
Constructed of ABS plastic and four sharp 304-stainless-steel blades, let a simple 360-degree twist do all the work for you. Quick and easy to use so the drinks can keep coming at any event.
Our opener is easy to operate
Snap on. Twist. Go.
Step 1
Grab the top edge of the can or bottom edge of the can for a sturdy grip (don't hold the center of the can though due to internal pressure).
Step 2
Open the handle of the opener and place the tool on top of the can.
Step 3
Squeeze the handle and rotate fully until you hear the release of pressure.
Step 4
Align the can rim with the handle notches and slowly rock to open the top of your can.
Works on just about any beverage (8-19oz cans are best)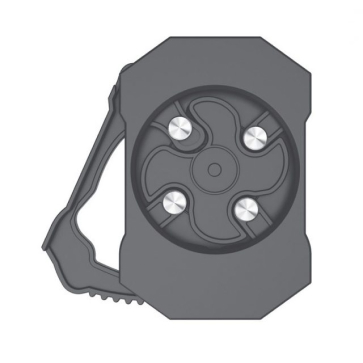 Drinks only, please
Note that this Go Swing Can Opener only works on canned beverages and is not designed for canned foods. Improper use on non-fit cans may result in injury or damage of the opener.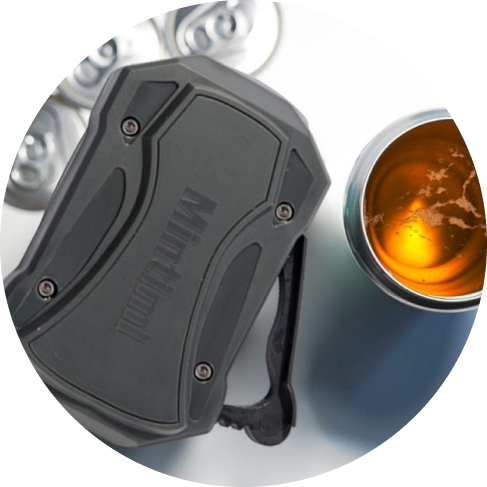 Here you'll find the answers to the most common questions our customers have!
How long after ordering is my order shipped?
We typically ship all orders within 2-5 business days. You will receive an email with a tracking number once your order is shipped but sometimes due to free shipping tracking may not be available.
How long does it take to arrive?
We ship all orders from our USA or Asia factory. Once shipped, we see delivery happen within the following timeframe:
USA: Within 1-3 Business Days
Canada & UK: Within 12-18 Business Days
Europe: Within 18-25 Business Days
International: Within 15-35 Business Days
These timeframes are typical, and sometimes local carrier issues may mean you item arrives slightly later than this.
I didn't recieve my order.
Please contact our support team, quoting your order number from the confirmation email/SMS message. We'll help track down your order.
What about customs fees/taxes?
We do our best to help ensure your item arrives as smoothly and quickly as possible, including labeling the package with all relevant information for customs authorities.
It's unusual for orders of 1-2 items to attract customs fees, except in countries where there is a very low or no tax-free threshold. If fees are charged by customs, they are payable by the recipient.
By purchasing our product(s), you consent you will be responsible for the payment of such fees when the item(s) arrives in your country.
Why is my tracking information is not available?
For some shipping companies, it takes 2-5 business days for the tracking information to update on the system. If your order was placed more than 6 business days ago and there is still no information on your tracking number, please contact us.
Why is my tracking info not updating?
There is no need to worry, this is perfectly normal. When your order is in transit and moving between countries, tracking will be very slow to update. Once the item lands in your country, it will move very quickly to your doorstep. You can track it here by entering your order number and email address.
My shipping address is wrong, can I change it?
You may request to correct your shipping address before your order is shipped. Changes are no longer possible once your order has been shipped out and in transit.
Additionally, Shopzu.com is not liable if an incorrect address is placed during the checkout process. Please make sure that your billing and shipping address is correct before processing your order. If we have made an error, we will fully take responsibility of the original order that was made for you at no charge.
Will my items be sent in one package?
For logistical reasons, items in the same purchase will sometimes be sent in separate packages, even if you've specified combined shipping.
Can I cancel or change my order?
You can only makes changes to your order or request a refund before you order has been shipped out. Once an order is fulfilled and in transit, we will no longer be able to make any changes to the product(s), address or provide you with a refund.
Please contact our support team to check if changes or cancellation are possible, and give the reason you wish to cancel.
If you have any questions regarding our Shipping Policy, please don't hesitate to contact us at support@shopzu.com.
My item is damaged/incorrect, what do I do?
Please contact our support team for any items that arrived damaged, defective, or the wrong item arrived, including a photo of the item within 24 hours of receiving your order.
We'll arrange for a replacement item to be sent to you as soon as possible. Please do not return items to us without authorization from support first.
Can I return my purchase?
We hope you'll love the item you purchased. If there's any concerns about it or you are thinking of returning it, please contact our support team for assistance within 7 days of receiving your order, explaining your reasons for wanting to return it.
We have a 7-day return policy, which means you have 7 days after receiving your item to request a return.

To be eligible for a return, your item must be in the same condition that you received it, unworn or unused, with tags, and in its original packaging. You'll also need the receipt or proof of purchase.

Please note the customer shall bear the shipping costs of the product to our US, UK or Asia warehouse unless the product is damaged.
Unfortunately, we cannot accept returns on sale items or gift cards.
Exceptions / non-returnable items
Certain types of items cannot be returned, like perishable goods (such as food, flowers, or plants), custom products (such as special orders or personalized items), and personal care goods (such as beauty products). We also do not accept returns for hazardous materials, flammable liquids, or gases. Please get in touch if you have questions or concerns about your specific item.

Unfortunately, we cannot accept returns on sale items or gift cards.
Exchanges
The fastest way to ensure you get what you want is to return the item you have, and once the return is accepted, make a separate purchase for the new item.
My item looks different to the online listing
This is a very rare occurrence. We make every effort to accurately represent all designs and products, though some listings make use of life-like renderings instead of photos to show how the item will look. 

If you have any questions regarding our Shipping Policy, please don't hesitate to contact us at support@shopzu.com.
Its blade design is very sharp. I think it can remove the top of almost all cans without leaving a sharp bottle mouth. I have used it many times without cutting my hand. Since I bought this can opener, I always take it with me at friends' parties, which greatly improves my drinking experience. I like it very much. Buy it!

The quality of the can opener is good, easy to use, but too soft cans are not suitable. The opened cans can be used as small vases for secondary use, which is very good.

I have used other types of can openers before, but they are not very easy to use. Since I got this can opener, I can quickly open the tops of various soda cans. It is easy to use, I don't need to use too much power. This product is of high quality and is a wonderful shopping experience.

can't leave photos but looks exactly like advertised

Love this safe can opener, it works really good. It's very light and very convenient to carry out. I can open my canned drinks anytime and anywhere outside. I like this feeling very much. At the same time, this product is also very safe. It has no sharp place and won't scratch my hand. It is very practical. The small can opener has solved many of my troubles.

I like drinking beverages and beer, as well as all kinds of cans. This can opener perfectly satisfies me to enjoy their deliciousness. This bottle opener is very easy to use.It can safely cut off the lid, the edge after cutting is not sharp and will not cut your hands. I recommend this can opener to everyone.

I think that with this can opener, the can can be opened easily. It lies comfortably in the hand. I also like to use this topless can opener to open cans. Also the price is suitable. I will definitely buy it again!

This thing is fun. I have always taken off the tabs off cans, what's better than that?.... Take the whole top off. This makes drinking anything way easier, and funner. Blades are very sharp, but leave no sharp edges on cans. Constructed well.

I received it, it is very convenient and easy to use, most of the cans can be used without any difficulty, it is recommended to buy.

It is convenient to use, good in quality and low in price, and practical.

Very good product! I'm very satisfied with it, yet thanks for the fast delivery! Perfect quality and very fast delivery! Thank you for the very good services!

This is the best can opener I have ever used. Many canned food and some canned drinks in the kitchen are difficult to open. I have tried many ways, but it is very laborious to open it. When I saw this product, I was attracted by its design. I bought it with the attitude of trying, and finally it was unexpectedly easy to use, very reliable and practical, and I liked it very much.

A little fiddly to get used to but once you've done it a couple of times gets better. Does what it is supposed to and feels robust to last a while.

I've tried a few of these kinds of tools. Non of them work as good as a normal can opener but that's an unreasonable expectation. Can opener requires two hands on the tool to operate. I can use this with just one hand while sitting down. Just a little effort and back and forth will take the lid off. Most of the reviews reflect what I've seen when I first started using these items. Takes some practice but if it's not coming off cleanly then it is user error. This product is the best version of the tool I have tried yet.

Works really well I really wanted one of these so I am so happy to have it. I used it tonight for a party and it worked wonderfully!

Exquisite and practical tool that can open the lid of the can very sharply. The cut part is smooth and has no sharp points. It is also more convenient to drink, without a lot of bubbles. Essential tools for drinking beer.

This product, works just as well if not better than advertised. Turns your beer can into a glass. My biggest concern was whether or not the edge left on the can would be sharp and I am happy to see that it doesn't leave any sharp edges.

Everyone loves trying it at family gatherings! Takes some getting used to then works great

This can opener is very cost-effective, convenient and quick to use, and is a very useful prop.

Good! I like this can opener very much. It is not only cool in appearance, but also very convenient to use. It's a cool item to have when u drink from a can .So far, I have used it many times, and the effect is very good and satisfactory.

Excellent item, thank you! Very easy to use and cheap.

Had not checked length, so was a bit surprised at the size, although quite happy with purchase.

This is a fun and useful gadget! Ingenious design, suitable for ordinary cans, too hard cans are more difficult to open, but it does not affect the use.

Easy to use. No problems taking the top off of the can, but had to go around twice for it to cut the top off.

functional product. need more power and skill

Will not work on narrow cans

This can opener is easy to turn knob which allows for opening all the top of cans with eased.After removing the top, I can choose to turn it upside down or ditch the glass and drink straight from the can.I like this cool feeling.Everyone should have it.

Perfect design, super practical, I use it to open the lid of carbonated drinks, the operation is very simple, just need to button and then turn to open, so in the future will not be sprayed by the drink dirty clothes, save me a lot of time to wash clothes, it is really very useful.The hand-held can opener can work completely intuitively, and the can cover can be loosened without any problems. It is a sturdy can opener.

Great product. It's very sturdy and easy to use. Also, it was delivered a day earlier than expected! Very happy with this purchase.

This can opener is very good. I need to open the can for my dog. And this works well. I give the bottle opener to my father and he said it is great.You can't believe that how easy it use. Really good quality and does an excellent job.

It took me a couple times to figure it out but it is definitely a great product!

I don't like to open cans with my hands. The topic of opening cans has always been an annoying topic for me. So I bought this can opener. It does not produce sharp edges when opened, which is really great! Also, I think the price is even cheaper than the usual can opener-definitely worth the money.

Decent looking, highly functional, well priced, and the quality is really good. Highly recommended!

This is a high-quality can opener at a very reasonable price. This can opener works really well.

This can opener can really easily open the top lid of a canned beer bottle, and it has no burrs on the hands. It is very smooth and can directly drink alcohol against the bottle. I have never experienced drinking directly, and it can also open my drink. The top cover, praise

This bottle opener meets its own ideal requirements. The topless can opener can be reused to open cans, and the edges become blunt, so the beer can opener will not cut itself again. The go swing is super recommended.

Was really surprised how easy it was to open a can. Easy to hold and use. We've been using an electric can opener for years now but it's a hassle at times.

This product has strong practicability. The size of the product is small, but it can effectively open the can. It's very convenient to carry when traveling. I'm satisfied

Love it. Super easy to use, works by itself and is safe. The edges end up smooth ~ nothing sharp to cut fingers on

The compact can opener works well. So far, there is no difficulty in opening cans, which is a good thing for can openers;) The workmanship is great and it leaves a valuable impression

This bare can opener beer can is easy to use, clean, and there is no fuss about cutting paper cans. I am so happy that this cool bottle opener is well done, the camping can opener is easy to use and feels comfortable! It can be carried well and very convenient. I am very satisfied

Takes a little practice to get a clean cut. Overall good design and simple to use. The tongs are helpful for fishing out the lid.

Open the jar and you will find that the jar no longer has sharp edges, which makes it easy to add ice to the jar. I will recommend it to my friends.

When this can opener arrived I put it on the can, the operation was very simple and I couldn't believe it. We have an expensive electric corkscrew, which I struggle with every time I use it, and I have to charge it to use it. With this can opener, electrical products will be thrown in the trash. He easily pierced the pot. Turn the handle and it cuts the top of the pot without resistance. Just plug it in, lift it up and pull it out. Won't slip here. In addition, the durability is also excellent. It is a robust and well made product.