Description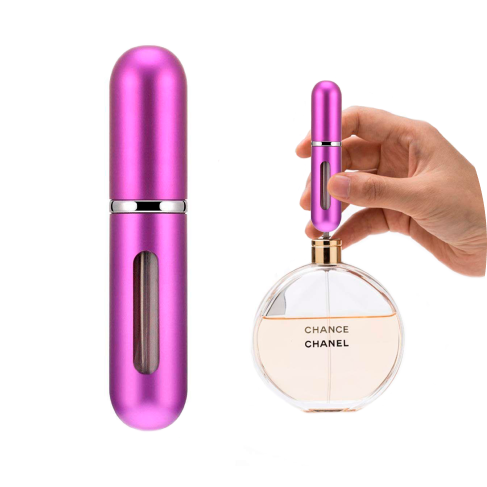 Your favorite scent, on the go
Want to freshen up throughout the day, but your perfume bottle is too large to carry around? Our Perfume Storage Bottle is just the solution. Fill with up to 0.17 liquid oz of your favorite scent for convenient touch-ups anytime, anywhere.
Up to 70 sprays (that you can see)
Our ultra-small atomizer spray bottle provides up to 70 sprays of your favorite scent, for an on-the-go freshen-upper that will last you for months in one fill. Our fine-spray pressure nozzle dispenses a generous mist of your signature scent everytime: it's like having your full-sized perfume, but without the weight of the bottle. A clear window indicator on the atomizer bottle allows you to monitor the perfume level inside.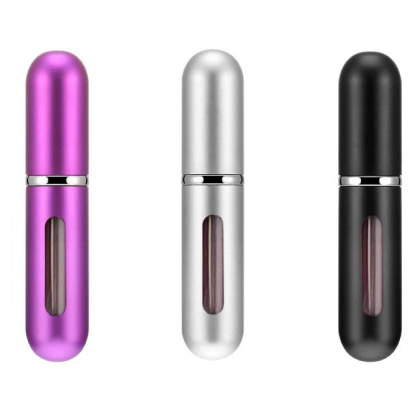 Filling up is simple
Just grab your perfume and go. Our Perfume Storage Bottle makes freshin' up while on the go easy and stress-free. Simply spritz once (or twice -- or three times) and soak up your favorite scent. Perfect for date night, a job interview, or a night out on the town with your girls, this atomizer spray bottle is the ultimate must-have in your clutch or purse.
Step 1: Remove the spray nozzle from your perfume bottle.
Step 2: Place the bottom of the atomizer bottle onto the perfume pump.
Step 3: Press and hold down until the atomizer is filled (do not fill to 100% though).
Four beautiful colors
Choose your Perfume Storage Bottle from purple, silver, black, and pink finishes. A flash of color can be ultra-glam and look mysterious yet chic. Fascinate friends when you pull your sleek spritzer out and reapply your perfume.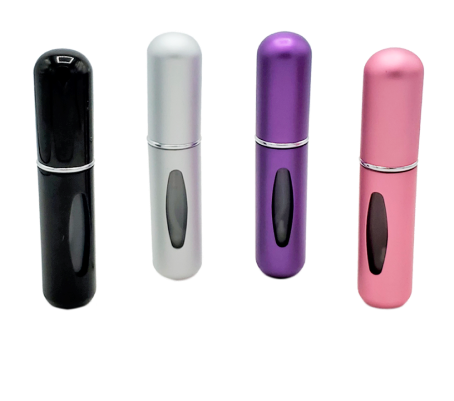 Carry anywhere
At just 3 x 0.4 inches (L x W) and nearly weightless, slip this lipstick-sized sprayer into your evening clutch, jacket pocket, or little makeup bag for fragrant touch-ups throughout the workday or throughout the night as you party away.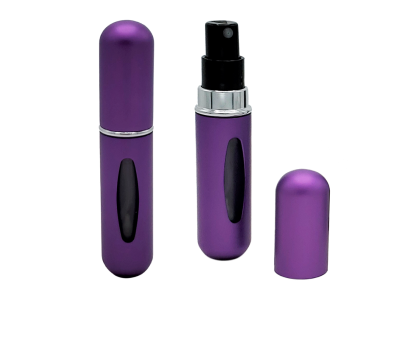 Here you'll find the answers to the most common questions our customers have!
How long after ordering is my order shipped?
We typically ship all orders within 2-5 business days. You will receive an email with a tracking number once your order is shipped but sometimes due to free shipping tracking may not be available.
How long does it take to arrive?
We ship all orders from our USA or Asia factory. Once shipped, we see delivery happen within the following timeframe:
USA: Within 1-3 Business Days
Canada & UK: Within 12-18 Business Days
Europe: Within 18-25 Business Days
International: Within 15-35 Business Days
These timeframes are typical, and sometimes local carrier issues may mean you item arrives slightly later than this.
I didn't recieve my order.
Please contact our support team, quoting your order number from the confirmation email/SMS message. We'll help track down your order.
What about customs fees/taxes?
We do our best to help ensure your item arrives as smoothly and quickly as possible, including labeling the package with all relevant information for customs authorities.
It's unusual for orders of 1-2 items to attract customs fees, except in countries where there is a very low or no tax-free threshold. If fees are charged by customs, they are payable by the recipient.
By purchasing our product(s), you consent you will be responsible for the payment of such fees when the item(s) arrives in your country.
Why is my tracking information is not available?
For some shipping companies, it takes 2-5 business days for the tracking information to update on the system. If your order was placed more than 6 business days ago and there is still no information on your tracking number, please contact us.
Why is my tracking info not updating?
There is no need to worry, this is perfectly normal. When your order is in transit and moving between countries, tracking will be very slow to update. Once the item lands in your country, it will move very quickly to your doorstep. You can track it here by entering your order number and email address.
My shipping address is wrong, can I change it?
You may request to correct your shipping address before your order is shipped. Changes are no longer possible once your order has been shipped out and in transit.
Additionally, Shopzu.com is not liable if an incorrect address is placed during the checkout process. Please make sure that your billing and shipping address is correct before processing your order. If we have made an error, we will fully take responsibility of the original order that was made for you at no charge.
Will my items be sent in one package?
For logistical reasons, items in the same purchase will sometimes be sent in separate packages, even if you've specified combined shipping.
Can I cancel or change my order?
You can only makes changes to your order or request a refund before you order has been shipped out. Once an order is fulfilled and in transit, we will no longer be able to make any changes to the product(s), address or provide you with a refund.
Please contact our support team to check if changes or cancellation are possible, and give the reason you wish to cancel.
If you have any questions regarding our Shipping Policy, please don't hesitate to contact us at support@shopzu.com.
My item is damaged/incorrect, what do I do?
Please contact our support team for any items that arrived damaged, defective, or the wrong item arrived, including a photo of the item within 24 hours of receiving your order.
We'll arrange for a replacement item to be sent to you as soon as possible. Please do not return items to us without authorization from support first.
Can I return my purchase?
We hope you'll love the item you purchased. If there's any concerns about it or you are thinking of returning it, please contact our support team for assistance within 7 days of receiving your order, explaining your reasons for wanting to return it.
We have a 7-day return policy, which means you have 7 days after receiving your item to request a return.

To be eligible for a return, your item must be in the same condition that you received it, unworn or unused, with tags, and in its original packaging. You'll also need the receipt or proof of purchase.

Please note the customer shall bear the shipping costs of the product to our US, UK or Asia warehouse unless the product is damaged.
Unfortunately, we cannot accept returns on sale items or gift cards.
Exceptions / non-returnable items
Certain types of items cannot be returned, like perishable goods (such as food, flowers, or plants), custom products (such as special orders or personalized items), and personal care goods (such as beauty products). We also do not accept returns for hazardous materials, flammable liquids, or gases. Please get in touch if you have questions or concerns about your specific item.

Unfortunately, we cannot accept returns on sale items or gift cards.
Exchanges
The fastest way to ensure you get what you want is to return the item you have, and once the return is accepted, make a separate purchase for the new item.
My item looks different to the online listing
This is a very rare occurrence. We make every effort to accurately represent all designs and products, though some listings make use of life-like renderings instead of photos to show how the item will look. 

If you have any questions regarding our Shipping Policy, please don't hesitate to contact us at support@shopzu.com.
I'm too happy to be able to carry my favorite perfume with me always. I'll definitely buy more :)

I'm too happy to be able to carry my favorite perfume with me always. I'll definitely buy more :)

As in the photo, beautiful and intense color, pleasant touch, works perfect, the valve does not lose or leak, good size. 100% recommended

The size of these atomizers are great. They fit in your pocket. They even fit in my jeans change pocket. They have not leaked. They are easy to fill. The window lets you see how much juice you have left. One of the complaints people have about perfumes or colognes is the longevity. With these atomizers it's easy reapply your fragrance when you need. The actual spray is very fine and covers a wide area. It's not a stream, it's a fine mist. For the price, and with the performance they provide, these atomizers are a great value and a great product.

It's perfect. It has a very nice color, the perfect size and is very easy to fill. What a great find ! I was very hesistant and questioned if these atomizers would really work, but they work great ! Great for travel and now I put them in my backpack to use post-gym. The process to load the fragrance is very easy too .

Everything came as ordered. There is a spray, the bottle volume is not large, but it is very convenient to put in a small handbag. I really liked these. If you just need to reapply a spritz of cologne of perfume through the day, or if you're traveling and can't take anything more than three ounces on the plane. I found myself just carrying one around every day. They're easy to fill, easy to see the volume level with the window, and easy to carry and use. Super product!!!

Nice piece and great idea! All girlfriends wanted to. I'll order another one!

Beautiful, pleasant to the touch, easy to fill with multiple presses base on the perfume tube without spray. I liked, thank the store, recommend!

This product 100% delivers on its purpose. Its simple and easy to use. I love the option of being able to carry around my favorite scents that I'm wearing to retouch throughout the day. This product has totally gotten rid of the need to buy those roller ball sizes for your perfume or cologne. I haven't had any issues with leakage or any issues with difficulty getting the perfume in the bottom. It was shipped well and arrived without any flaws.

I received the order quickly. Made neatly, does not look cheap. I 've already made up my spirits. Works. ))) I liked it

I travel quite a bit, and use cologne daily. This is a great solution if you don't want to drag entire bottle with you. For the price I was impressed with the built quality. all aluminum, glass container, good mist, very fine spray. . . . Easy enough, it transfers from source to these bottles without getting exposed to air by removing the spray cap and pumping it directly into these bottles. Well it transfers sorta... I could only get 1/10th of cologne into these bottles (See photo), rest of the pump started running to the outside. Bottom has a rubber gasket that does leak a little, so wherever you place these bottles; that area will smell from it. Having said that, I don't mind smelling the place where I store them, it smells nice, and although bottle does not store its full potential, I am able to get few days out of each bottle!

This refillable bottles are easy to fill and it's size is smaller tan a regular lipstick, so it take no space in your purse or pocket.Different colors allows you to identify what's in each one easily. Came well packaged and was fast delivered. I'm pleased and will buy again.

I was scared that it would leak but it didn't! I tested it laying down on its side and also standing up, so see if it would leak. To pump it, it was super easy and liked very quickly. Great purchase

I am so happy with these!! They are super easy to fill and speay better than my actial perfume bottles. My bf, loves ir because he can travel on the airplane with it. I gifted to my lil sister and mother in law; they both are fans

Easy to use perfume bottles. I like to take these little perfume viles for when I travel. No need to carry around big bottles that can possibly break on you in your suitcase. Easy to fill too.

I filled these up yesterday and am impressed at how easy and great they are.

I was skeptical if this would work. But, it does!!

Very easy to fill. Great for travel, less weight in you suitcase.

I used half for perfume & half for Poopouri. So far they are holding up pretty well & I haven't had any leaking of the liquid which I've had with previous similar items. My only real issue was that I couldn't figure out right away how to get it open. It does not come with any instructions. I was twisting it for several seconds, trying to get the top off so I could put the liquid in but it would not come off. Most atomizers I've purchased previously open this way. I finally figured out that you just pull it straight out & the top pops off. Other small suggestion I would have is to include a small funnel but I don't find it necessary, just a nice perk. Overall, good value for the money.

Love that we don't have to worry about breaking the full sized bottles of cologne while travelling. Also, they're small enough to go through TSA checks in carry-on.I have seen versions of this and are more expensive. These look to be the save and they work great. So far i have not had any issues with leaking and i have traveled with them at least 3 round trips on planes with them without issue. I do put them in zip lock bags in my travel bag to be safe and that zip lock back does smell like my cologne but dont notice any liquid in the bag. Highly recommend this product to travel with rather than bringing the full big bottle of expensive cologne.

I haven't had any issues with leaking. The product is cute and easy to use. I will repurchase.

they don't attach to all perfume bottles so I sat there pumping and nothing was happening except the perfume pumping on to the table. But for portability they are easy to bring anywhere but be sure they work for you to fill them.

These were great and easy to fill. I've carried them on planes and on cruises, never leaked

Perfect size, lovely colors and the mos practical thing to use in your purse daily or for travel. Very happy!

I like these you can put one in your purse or wallet and have your favorite perfume with you at all times

Very easy to use!! It's perfect for travel! I'm so glad I found this product!!!

Wanted to bring my favorite perfume with me, but it had to be in a 2-ounce-container to bring on an airplane. This worked perfectly and didn't leak

I like the fact they came and varying colors so I know which scent goes with which perfume. They're made fairly well and they're great for traveling. I waited a while to write a review cuz I wanted to see if they were going to leak at all. I've had not one leak! But I haven't had them at the bottom of my purse traveling around for any amount of time so take that into consideration. These are a great invention! You're like me you've lost will head to one of your perfumes and well had to rig it with another perfumes lid and lost a lot of the perfume in doing so. Well this is the item for you! You want to split a bottle of perfume with her friend well this is a way to do it! Need a gift for a friend? Well what I did when I was broke and needed a gift for a friend I just took some of my own perfume and a new atomizer. filled it up with what I believe would be her favorite scent put it in a cute box and she loved it. In fact she said " for my birthday will you refill it for me"?

These are perfect for traveling or keeping in the office/work/car. Really small but really useful. Easy to use. I will get more as soon as I can to give to my family.

I really like this product! I love the colors! I thought they were going to be a little but bigger but they do work for traveling. My only problem with them was that when I put perfume into them it got a bit messy and perfume started dripping on me. I'm pretty sure I was doing it correctly and I still go perfume into them but at some points it was messier then I would've hoped.

Good deal. Good quality. Love the colors.

I bought these atomizers to use when I go traveling. They are easy to use but they didn't work with all of my perfumes. Some perfumes can't remove the top so it doesn't work with that. Otherwise, these portable perfume bottles are awesome.