Description
You probably just sat upright right now, didn't you? And if you're reading this, you are probably on your laptop or phone right now. The truth is -- a lot of people slouch, whether knowingly or unknowingly. But there is an easy way to gradually correct your slouching -- and it just takes an easy-to-wear brace: say hello to our ProPosture Corrector.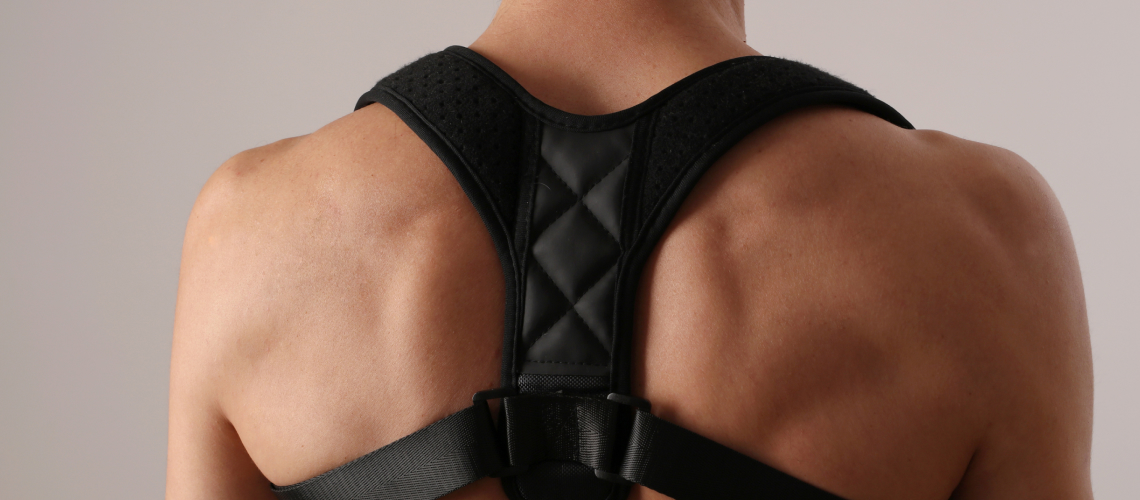 Brace for relief
If you've experienced (or are currently experiencing) aches and pains from your neck, back, or waist, it's quite possible that your poor posture is causing all this discomfort. Our posture corrector works by training your muscles and spine to return their natural alignment, allowing you to stand head to toe the way nature intended.
It's got your back (literally)
Stand tall now (and keep it that way). Our corrector is: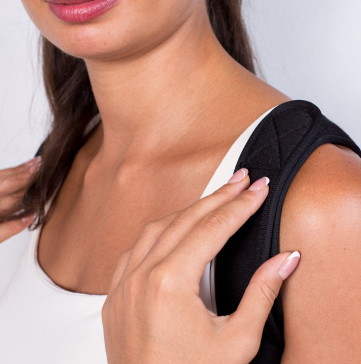 Comfortable + adjustable
Straps and belts are adjustable while our breathable material helps you wear with ease.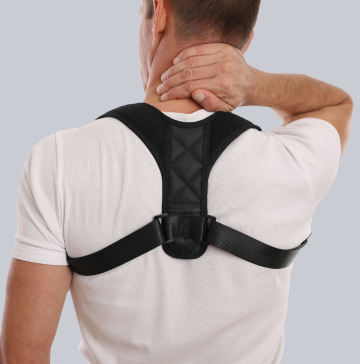 Discreet while it works
Wear the corrector under your clothes with no tell-signs.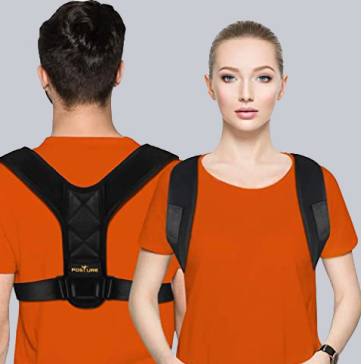 Unisex
Works great for men and women.
Why should you wear a back brace?
The ProPosture Corrector helps correct your slouching now so that you can feel better later. When uncorrected over time, poor posture and muscle imbalances can lead to more pain and potential nerve damage.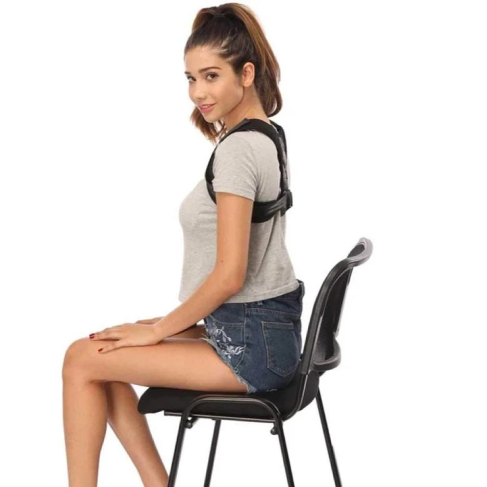 Our posture corrector helps alleviate: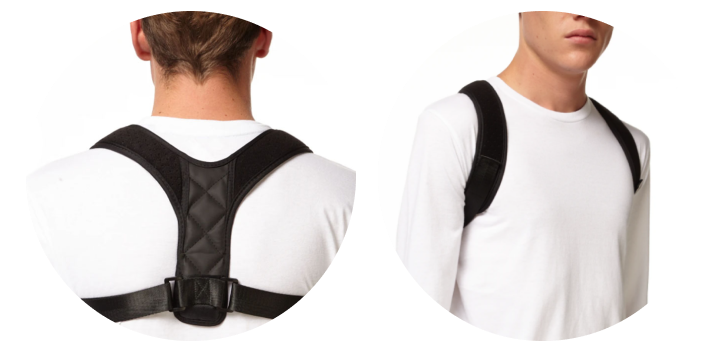 Stand taller today
Just find your size + fit:
Small (S):
For kids or small adults 90 lbs – 140 lbs (40 kg – 64 kg), chest size 18″ – 26″ (46 – 68 cm)*
Medium (M):
For adults up to 150 lbs – 180 lbs (68 – 82 kg), chest size 27″ – 36″ (68 – 91 cm)
Large (L):
For adults between to 181 – 365 lbs (83 kg – 120 kg), chest size 36″ – 47″ (91-119 cm)
Extra Large (XL):
For adults over 365 lbs (120 kg), chest size 47″ – 59″ (119 – 150 cm)
Here you'll find the answers to the most common questions our customers have!
How long after ordering is my order shipped?
We typically ship all orders within 2-5 business days. You will receive an email with a tracking number once your order is shipped but sometimes due to free shipping tracking may not be available.
How long does it take to arrive?
We ship all orders from our USA or Asia factory. Once shipped, we see delivery happen within the following timeframe:
USA: Within 1-3 Business Days
Canada & UK: Within 12-18 Business Days
Europe: Within 18-25 Business Days
International: Within 15-35 Business Days
These timeframes are typical, and sometimes local carrier issues may mean you item arrives slightly later than this.
I didn't recieve my order.
Please contact our support team, quoting your order number from the confirmation email/SMS message. We'll help track down your order.
What about customs fees/taxes?
We do our best to help ensure your item arrives as smoothly and quickly as possible, including labeling the package with all relevant information for customs authorities.
It's unusual for orders of 1-2 items to attract customs fees, except in countries where there is a very low or no tax-free threshold. If fees are charged by customs, they are payable by the recipient.
By purchasing our product(s), you consent you will be responsible for the payment of such fees when the item(s) arrives in your country.
Why is my tracking information is not available?
For some shipping companies, it takes 2-5 business days for the tracking information to update on the system. If your order was placed more than 6 business days ago and there is still no information on your tracking number, please contact us.
Why is my tracking info not updating?
There is no need to worry, this is perfectly normal. When your order is in transit and moving between countries, tracking will be very slow to update. Once the item lands in your country, it will move very quickly to your doorstep. You can track it here by entering your order number and email address.
My shipping address is wrong, can I change it?
You may request to correct your shipping address before your order is shipped. Changes are no longer possible once your order has been shipped out and in transit.
Additionally, Shopzu.com is not liable if an incorrect address is placed during the checkout process. Please make sure that your billing and shipping address is correct before processing your order. If we have made an error, we will fully take responsibility of the original order that was made for you at no charge.
Will my items be sent in one package?
For logistical reasons, items in the same purchase will sometimes be sent in separate packages, even if you've specified combined shipping.
Can I cancel or change my order?
You can only makes changes to your order or request a refund before you order has been shipped out. Once an order is fulfilled and in transit, we will no longer be able to make any changes to the product(s), address or provide you with a refund.
Please contact our support team to check if changes or cancellation are possible, and give the reason you wish to cancel.
If you have any questions regarding our Shipping Policy, please don't hesitate to contact us at support@shopzu.com.
My item is damaged/incorrect, what do I do?
Please contact our support team for any items that arrived damaged, defective, or the wrong item arrived, including a photo of the item within 24 hours of receiving your order.
We'll arrange for a replacement item to be sent to you as soon as possible. Please do not return items to us without authorization from support first.
Can I return my purchase?
We hope you'll love the item you purchased. If there's any concerns about it or you are thinking of returning it, please contact our support team for assistance within 7 days of receiving your order, explaining your reasons for wanting to return it.
We have a 7-day return policy, which means you have 7 days after receiving your item to request a return.

To be eligible for a return, your item must be in the same condition that you received it, unworn or unused, with tags, and in its original packaging. You'll also need the receipt or proof of purchase.

Please note the customer shall bear the shipping costs of the product to our US, UK or Asia warehouse unless the product is damaged.
Unfortunately, we cannot accept returns on sale items or gift cards.
Exceptions / non-returnable items
Certain types of items cannot be returned, like perishable goods (such as food, flowers, or plants), custom products (such as special orders or personalized items), and personal care goods (such as beauty products). We also do not accept returns for hazardous materials, flammable liquids, or gases. Please get in touch if you have questions or concerns about your specific item.

Unfortunately, we cannot accept returns on sale items or gift cards.
Exchanges
The fastest way to ensure you get what you want is to return the item you have, and once the return is accepted, make a separate purchase for the new item.
My item looks different to the online listing
This is a very rare occurrence. We make every effort to accurately represent all designs and products, though some listings make use of life-like renderings instead of photos to show how the item will look. 

If you have any questions regarding our Shipping Policy, please don't hesitate to contact us at support@shopzu.com.
During this time while we've all been working from home, I've noticed upper back pain. Being at the computer for extended amounts of time makes you unaware of your posture, sometimes to the point where bad posture is comfortable. Knowing that it's not healthy long term, wearing this device reminds you of when your shoulders begin to roll forward, putting a firm pressure there, so you know when you need to stand up straighter. Over time, you get used to avoiding that sensation and a proper posture becomes comfortable again, which prevents back pain at the end of the day. Forcing yourself to stand up straight feels awkward without this device, but with it, it helps remind you when you're falling back into bad habits. I'm sure over time, it won't be needed once mentally knowing what proper posture feels like.

Everything is exactly as in the picture. Thanks to the store, I recommend.

So helpful! I've been wearing this every day since I got it. I have a terrible problem of slouching. So much that I have a hump on the back of my neck!! After wearing this so much it's actually helped. My back doesn't hurt as much and I'm getting better at sitting up straight on my own. I highly recommend this!

I was a bit skeptical about this at first, but upon receiving it in the mail I tried it out immediately. I am typically a small/medium in shirt size and ordered a small for the posture corrector. It seems that this is measured a little larger as I had a lot of excess strap. The good thing is that it is easy to adjust and can be done in a matter of seconds. I had on the corrector for maybe 30 minutes and could feel a release in tension already. It's thin enough to still fit seemlessly under your clothing, but still provides the right amount of support in helping with your posture.

Thank you very much. The product came super quickly, in good quality. I will order more I recommend the store to everyone.

After using multiple posture correctors, I had pretty much given up on having pain relief for my upper back due to my minor scoliosis. This went on sale and I figured, why not? I gave it a shot and instantly felt relief. Be sure to follow the instructions provided on the little slip of paper they give you, as well as the ones listed on the page. They also provided velcro extending straps for those who may need them. Overall a great purchase on my end, and if this ever breaks or I know someone who needs it, I'll definitely be recommending this one!

I work 12 hour shifts in an office setting, three days consecutively. I noticed my lower back pain increasing and some rounding in my shoulders. My doctor recommended a posture corrector, and this one has worked wonders. I have not used other posture correctors in the past, but this one seems as good as any. I experience less pain in my lower back and no more shoulder rounding when I use this device. I recommend wearing it under clothing.

Parcel arrived 2 days before the estimated date, size and color as described

Very good product, arrived on time and works very well

So this basically feels like your wearing a back pack really tight. As soon as i put it on and tightened it, it cracked my back and relieved some pain I didn't know i had. I initially purchased this because of my job, where I sit at a desk most of the time, I realized I slouched a lot in my chair. I didn't have pain or anything but didn't want something to arise in the future. It added a couple inches to my shoulder length and it definitely helps me keep my back straight and added a inch to my height. Now it looks like I walk around with my head high and added some more confidence in my posture. I wear it on my under shirt and you can't tell I have it on. Would definitely recommend.

I was very surprised of how easy this posture corrector was to use. It has helped me lower my back pain and it forces me really keep posture straight!!! The cool thing is that you put it on, pull the strips to your desired strength and velcro them. Thats it! Ive been able to notice how Ive been so used to bad posture that i even develop a wrong posture to breath. Ive been using it every day and i am Very happy!

I recommend the seller and this product. Shoulders straightens really.

Corresponds to the description. It's okay. I am happy with the purchase.

I love that this is adjustable so as your muscles relax and strengthen you are able to make it tighter. But it's also great when your starting to not pull your shoulders back. I believe this sets it apart from other products like this. This really helps take strain off my upper back and is helping my back to be straighter. It's not a one time use it and everything is corrected product, but it does help you work towards a straighter and less sore back.

Immediately seeing results. I tend to slouch a lot whenever I work at the office. From all the pain, decided to try this out under my blazer. I can feel whenever I slouch and it's been a few weeks and can immediately see that my back has improved!! My brother also has used this during the weekend! Awesome product!

The first day I wore this product, it caused my upper back to have a weird feeling but it is due to your back straighten out. I don't have a big upper body, and the straps were fine to tighten. It helps pull your arms/shoulders back so your upper body doesn't slouch. If you sit down in your chair with bad posture around middle spine, this won't help much. However, it keeps you conscience about your posture and you'll be more aware to sit straight up. Overall, for the cost of this product, I think it works nicely to help you fix your posture. It still takes effort, don't think this will magically cure you of having a bad posture. Even when I take off the back posture corrector from wearing it for 1/2 the day, my body and mind tries to fix my posture while I walk around the house.

So originally I purchased this for my self just to try it... well my girl took it and pretty much Kept it and now it's hers lol... she loves it! She says it really helps her not to hunch. You can still kind bend your back but it's like a reminder to stay straight! She likes it so much she wears it while working out on her elliptical!! She says it's easy to put on and easy for her to take off.. it's been a little over 2 weeks now that she's had it and she believes it real helps. Four stars for not having a family packs or couples set, so I wouldnt've share it lol

This brace helps a bit but is very uncomfortable under and around my arms that I can't wear it for very long. I am using it but wish I had found one that is more comfortable.

I got it specifically because I had some problems with my slouching shoulders, and them looking much broader than they actually were, and needed something that would eventually fix them. It did that very well! It wasn't very comfortable for the first day (I wore it continuously for 10 hours), but the second day it almost didn't hurt at all. After nearly a week now, it feels very comfortable and supportive of a more natural posture, and shoulder discomfort that I had previously is gone! I sleep much better now, and some problems that I didn't think would go away did (I had a protruding collarbone on my right shoulder that's settled back in where it goes, which feels much better). I even bought another for the family, since they wanted to use it too! Definitely recommended!

Received, thank you! Quality is good, you can adjust the size.

So for my honest review, Its kinda hard to put the harness on. Also its a bit uncomfortable but i only want to wear it at home so i am willing to do what it takes.

The fabric is soft and doesn't rub. The Velcro is on the end of the straps so it doesn't grab on to your clothing and makes it very adjustable. Actually I can move a bit too freely in it, so may be it better be less comfortable and more correcting.

Pro's - 1 - The wide strap sections are comfortable around the neck, upper shoulders and between your shoulder blades. 2 - Pretty inexpensive and affordable. Cons - 1 - It is a little difficult to get it around your shoulders if you are in pain. Would be great to have longer straps.

the order is perfect. i will buy again from this store

Got one for me and a friend. We both work in IT and it's great to prevent slouching!

This product works pretty well for daily use. But you have to wear it over your clothes or it is slightly uncomfortable. It would only really make sense to wear this around the house, or if you are working in an office where not many people see you. I couldn't really see myself wearing this out to do groceries., so for that reason, I took off a few points.

Ordered for husband. He likes it! Fixes the back and helps to keep good posture. The corrector itself is really well-made. I recommend!

I have a really bad habit of slouching at my desk and I'm really noticing a difference with this posture corrector especially with my lower back pain. I mostly use mine at work and my posture has already improved in the last few weeks. Love it!

I don't have serious posture problems, but I definitely slouch way too often behind my desk and I was starting to feel some tightness in my upper back and shoulders. Been using mine for about 2 weeks and the tension in my back in shoulders has gone down quite a bit. I'd say this is perfect for people who find themselves slouching all the time and need a quick and convenient solution to correct their posture.

Love it. Easy to wear and keeps my posture straight.

Been wearing mine for a few weeks and my posture has improved so much already! I usually sit for about 4-5 hours throughout the day, and using this posture has helped me be more conscious of my posture and also relieves a lot of my back pain. I'm definitely happy with my purchase.

I was a little skeptical at first but this brace is the real deal. I'm surprised at how lightweight it is! I wear mine for about 2-3 hours througout the day with no issues.

Really keeps from slouching, easy to adjust, the material is pleasant and high-quality. Thanks to the seller, I advice you to buy!

Just got mine a few days ago. It's much more comfortable than I expected, and it makes me more conscious of my posture throughout the day! I typically wear it with either an undershirt or just over my regular clothes. My back is already feeling a lot better, hoping to see more improvements to my mid/lower back pain in the next week or two. Great purchase!

After a few weeks of use I can safely say this posture corrector 100% does the job! It's super light and comfortable and easy to quickly put on before going out, running errands, etc. I've always had a bad habit of slouching, especially while sitting down at my desk so having this strapped around my back keeps my back straight and my shoulders back.

It works very well. So why 4 stars? It's a bit uncomfortable, especially if you have to move your arms around a lot. Would love to have it in a softer model.

All in all, it's a good product. Just keep in mind that it's not really made for us small people. It probably wouldn't fit very large people either.

Firstly, it does work well. But for a big-breasted person like me the brace gets uncomfortable after wearing it for a while, especially in the armpits.