Description
No more slipping and falling
Load and strap down cargo bags, boxes, canoes, kayaks, skis, snowboards, and bikes to the car roof all with ease and safety. Our Universal Car Footstep provides you a safety leverage for better support to prevent accidents and injury.
No dirt or shoe marks
Remember stepping on your driver's seat to reach the top of your car? And then seeing those unsightly dirt and scuff marks? That's all history with our safety step.
Compact support
Our footstep measures 5.9 x 3.1 in (15.5 x 8 cm) for a perfect stepping support. It eliminates the need to bring out step stools or ladders that just end up being a burden.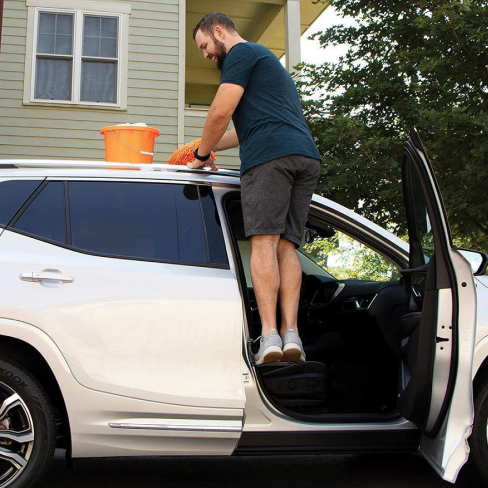 Install (and remove) in a flash
No screws or bolts needed. Your car already has what it takes to hook up this step tool. Every front door on a car has what is known as a striker hook or plate: it's the D-shaped ring that sticks out. Just hook your Universal Car Footstep onto this, and you're set. When you're done doing what you need to do on the car rooftop, simply unhook the step.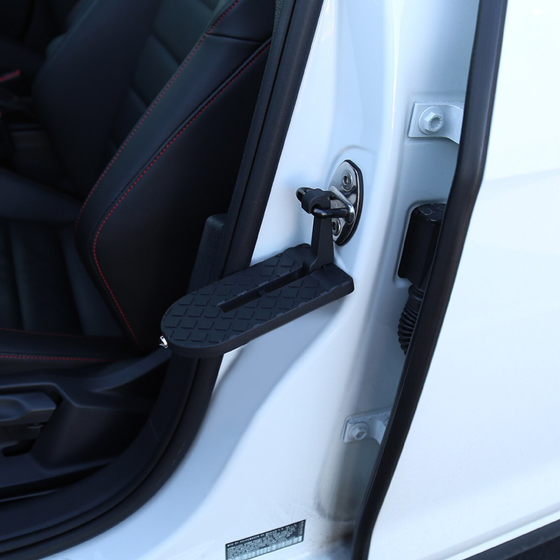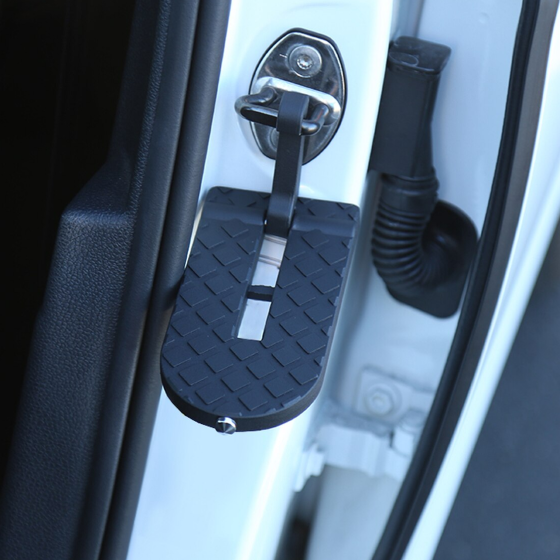 Over 400 pounds of support
Government safety testing protocol in the U.S requires that every vehicle door latch be able to withstand a vertical force of 2,500 pounds and a horizontal force of 2,000 pounds without failure. Our aluminum-alloy step supports just about any sized human, with up to 440 pounds of support. Step up with confidence without fear of falling or slipping.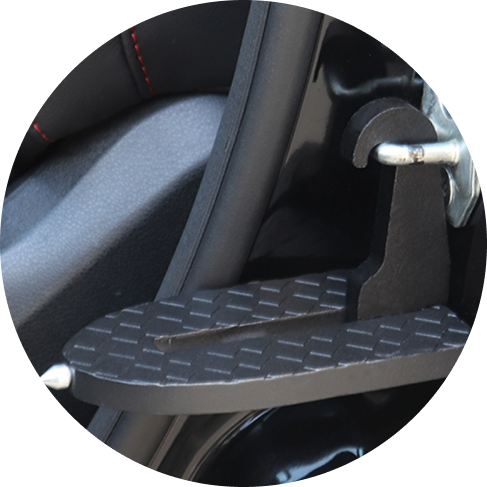 Great and helpful for anyone
From neighbors that are seasonal skiers to the family friend that goes canoeing or bike-riding in the mountains all the time, our Universal Car Footstep is a thoughtful gift idea for extra safety and support for everyone.
Here you'll find the answers to the most common questions our customers have!
How long after ordering is my order shipped?
We typically ship all orders within 2-5 business days. You will receive an email with a tracking number once your order is shipped but sometimes due to free shipping tracking may not be available.
How long does it take to arrive?
We ship all orders from our USA or Asia factory. Once shipped, we see delivery happen within the following timeframe:
USA: Within 1-3 Business Days
Canada & UK: Within 12-18 Business Days
Europe: Within 18-25 Business Days
International: Within 15-35 Business Days
These timeframes are typical, and sometimes local carrier issues may mean you item arrives slightly later than this.
I didn't recieve my order.
Please contact our support team, quoting your order number from the confirmation email/SMS message. We'll help track down your order.
What about customs fees/taxes?
We do our best to help ensure your item arrives as smoothly and quickly as possible, including labeling the package with all relevant information for customs authorities.
It's unusual for orders of 1-2 items to attract customs fees, except in countries where there is a very low or no tax-free threshold. If fees are charged by customs, they are payable by the recipient.
By purchasing our product(s), you consent you will be responsible for the payment of such fees when the item(s) arrives in your country.
Why is my tracking information is not available?
For some shipping companies, it takes 2-5 business days for the tracking information to update on the system. If your order was placed more than 6 business days ago and there is still no information on your tracking number, please contact us.
Why is my tracking info not updating?
There is no need to worry, this is perfectly normal. When your order is in transit and moving between countries, tracking will be very slow to update. Once the item lands in your country, it will move very quickly to your doorstep. You can track it here by entering your order number and email address.
My shipping address is wrong, can I change it?
You may request to correct your shipping address before your order is shipped. Changes are no longer possible once your order has been shipped out and in transit.
Additionally, Shopzu.com is not liable if an incorrect address is placed during the checkout process. Please make sure that your billing and shipping address is correct before processing your order. If we have made an error, we will fully take responsibility of the original order that was made for you at no charge.
Will my items be sent in one package?
For logistical reasons, items in the same purchase will sometimes be sent in separate packages, even if you've specified combined shipping.
Can I cancel or change my order?
You can only makes changes to your order or request a refund before you order has been shipped out. Once an order is fulfilled and in transit, we will no longer be able to make any changes to the product(s), address or provide you with a refund.
Please contact our support team to check if changes or cancellation are possible, and give the reason you wish to cancel.
If you have any questions regarding our Shipping Policy, please don't hesitate to contact us at support@shopzu.com.
My item is damaged/incorrect, what do I do?
Please contact our support team for any items that arrived damaged, defective, or the wrong item arrived, including a photo of the item within 24 hours of receiving your order.
We'll arrange for a replacement item to be sent to you as soon as possible. Please do not return items to us without authorization from support first.
Can I return my purchase?
We hope you'll love the item you purchased. If there's any concerns about it or you are thinking of returning it, please contact our support team for assistance within 7 days of receiving your order, explaining your reasons for wanting to return it.
We have a 7-day return policy, which means you have 7 days after receiving your item to request a return.

To be eligible for a return, your item must be in the same condition that you received it, unworn or unused, with tags, and in its original packaging. You'll also need the receipt or proof of purchase.

Please note the customer shall bear the shipping costs of the product to our US, UK or Asia warehouse unless the product is damaged.
Unfortunately, we cannot accept returns on sale items or gift cards.
Exceptions / non-returnable items
Certain types of items cannot be returned, like perishable goods (such as food, flowers, or plants), custom products (such as special orders or personalized items), and personal care goods (such as beauty products). We also do not accept returns for hazardous materials, flammable liquids, or gases. Please get in touch if you have questions or concerns about your specific item.

Unfortunately, we cannot accept returns on sale items or gift cards.
Exchanges
The fastest way to ensure you get what you want is to return the item you have, and once the return is accepted, make a separate purchase for the new item.
My item looks different to the online listing
This is a very rare occurrence. We make every effort to accurately represent all designs and products, though some listings make use of life-like renderings instead of photos to show how the item will look. 

If you have any questions regarding our Shipping Policy, please don't hesitate to contact us at support@shopzu.com.
Very quality item, large enough for both feet . It can easily sit level by simply raising it a little, it doesn't have to be on the hook portion to hold securely , I have a 2001 landcruiser with a roof rack and was having to stand on the window opening to fully access the rack. This lets me step up from the door jamb and easily reach the rack . I can use it on front or rear doors easily. I opted for this over the cheaper folding units after seeing one a friend had bought and was impressed by its quality. This is a item that should last a lifetime

2018 Toyota Highlander, Yakima SkyBox on top. I have a folding step that goes over a wheel. This given me more options for entry (four doors, after all) and is higher off the ground.Once you slide it into place push down to make certain it's fully engaged. Now that I see it in person more convinced than ever that getting this over a knock-off was the right decision. Very substantial. I'm 6'2" and 240#. No problem.

Bought 2 of these to use on my JK Jeep as a step to help the height challenged open up the roof top tent. They are solid and I can place 2 feet on them. Really worked well! I considered the other styles, but solid aluminum and the fact I can get both feet on them was the selling point even though they Are pricey.

Not the cheapest, but very sturdy, very well made, and didn't want to take the chance with a collapsible door step. Doesn't mark up the door and the longer step allows me to put both feet on it, even if my second foot is half on. I would recommend this door step. Makes getting into our rooftop cargo box easy and I don't have to step on the seats.

Amazing quality and design! I am 5'1" and bought a rooftop box for my vehicle... how in the world can I reach it without lugging around a step stool for the rest of my life? In comes this genius door step! Holds up to 400lbs, and I believe that. I can fit both feet on the step, enough to feel sturdy. Side note - on my vehicle at least (2016 Hyundai Tucson), the front door jamb is pretty vertical, while the back is at an angle. I would not use this on the rear doors, because I feel like weight would crumple the skin of my car, and not because of bad product design but rather just because of the angle itself. Don't hesitate if you're thinking about buying this!

I too, was skeptical about purchasing this step for my Subaru Forester, since I had read about the damage people claimed it caused to their vehicles from the screws at the attachment point. I figured I would just buy them to check for myself. Well, as you can see from the pictures, the screws don't even SHOW at the attachment point on the vehicle! The pictures I saw look quite different from the item that I have. Perhaps the company modified them and put out a different version. I can't explain that, but I can say that I am 100% pleased with my purchase and most of all, no damage whatsoever to my car.

I bought this because it looked very practical however it doesn't fit my Tacoma nor the VW Tiguan. Appears very well build and would be easy to use. Certainly more efficient than a stool and easier to store. Alas, the beefy manliness of the product does not fit my less manly vehicles.

Wow! I have been carrying around a mini ladder to get my kayaks on top of my 4 runner. I bought two of these and it is one of the best purchases I have ever made. These little steps are so easy to use and are sturdy even when I am standing in them in flip flops. They allow me to stand high enough that my waist is at rooftop height allowing me to have two hands and all my upper body strength to pull my kayaks up. Thanks to these I can load two by myself or with minimal pushing assistance from my 10 year old son. When I started kayaking I kept searching "kayak accessories" and "cool things for kayak". I also watched numerous YouTube videos on how to beat load your kayak. No one used or mentioned these amazing things! I am not sure how to post videos to YouTube but someone please do one and get the word out on these amazing and super easy steps! Do the world a favor. They should pop up on the internet at the top of the search list for loading essentials. No more balancing on your seat and back tire awkwardly trying to balance and pulling up your kayak while scratching your car. Those days are gone with this cool step. The only thing I have to say that I don't love is the price. $44 was a little steep for a step but it is heavy and of very sturdy quality. I do not regret this purchase one bit

Fantastic design and beyond sturdy. Addressing the dent complaints... I attached an eighth-inch-thick, furniture floor pad over the screws. Works peachy; no dents. Love this product; just ordered a second for my Highlander.

I used to carry a folding step with me to get up into the rooftop carrier on top of my Subaru SUV. This doorstep gets me higher for great access to my carrier. It is perhaps a little too high, but that is OK. I step on the door jam of the car then up onto the doorstep with the other foot. Feels very solid and secure. There is a layer of rubber where the step is next to the car so that the car's door jam does not get scratched. It can be used on the front or back door, so great access to the full carrier without having to reach too far. It folds very small so that I can store it in the driver's door storage compartment for easy access.

Works great on my Ford ecosport. Step locks in good and is very stable. Allows me to access my roof rack. I can use it in the rear door latches, step on the rear tire and stand a perfect height to access my kayak.

I purchased this for my 2019 Jeep Wrangler JLU Rubicon and it works perfectly. When I have my Thule carrier on top I can access it with ease, love it! This thing is solid. I had not problems with it scratching my door jamb at all and putting it on an off was a breeze. I'd recommend this to anyone!

This is as simple a solution to a problem that there ever could be. In other words, it is BRILLIANT! I have a 2018 RAM 3500 Crew Cab Diesel Dually with a roof rack. It is the size of an elephant and I am a whopping 5'4". Accessing the roof rack is easy peasy with this doorstep. It is sturdy and secure. A complete no-brainer if you need to be about 2 ft. taller than you really are, LOL.

If you have small feet you can get two on the platform; otherwise you'll only get 1 1/2 or less feet on the platform. Still, its handier than anything else I've ever found.

This is a very well-made product with ample space for both feet to step on. I like that it has a rubber padding to prevent scratching on the paint. I'd have given one more star if not for it being not absolutely flushed with my Jeep wrangler JL but upon testing it for a minute or so, it still holds up. I'm keeping this product despite the little flaw. To be fair, not really a flaw but more so because of each vehicle's different configuration, is all.

nice and in good condition...thank you...

Easy to use n handier than a stepladder or stool...not for people with balance issues

I was just looking where to buy such part for my car online. thanks to the seller!

The purchase arrived really fast! And it was exactly what i need to clean my car roof in winters!

This is not exactly what I was expecting. Very sturdy and I believe that it will hold the amount of weight advertised, but I was surprised that the foot platform was not long enough for two feet to fit on it, more like one and a half mens shoe width! Still, it is far better than trying to stand on the seat bottom bolsters and the door latch to access the roof rack bars of my porsche cayenne !

It took me some time to compare this car footstep with other similar offers, but now I'm completely sure I made a great deal.

this footstep is really what I wanted, comes quite handy in many situations. thank you!!

this is a fairly good price for universal car footstep which you cant just find anywhere, i dare say. given that the quality is superior, this is really a bargain

Now I know here to find a car footstep online for a great price! Thanks to the seller

Bought this to use with my Subaru Outback. It's a much better solution than carrying a step ladder around. However on my vehicle it is only useable on the front door latch, because the rear passenger door latch catches are bolted at a slight upwards angle

Good quality footstep! There is a protection to avoid damage, the product is well packaged. Thank u!

I was worried about safety of free delivery, but parcel arrived in really excellent condition and in time. Thanks a lot!

Though I've just had this product for a couple of days a week I'm quite pleased with it. This a super buy. I purchased it for my buddy. We were both fascinated with the quality of the. The order actually came promptly and I was quite satisfied. way outdid my hopes. I would greatly recommend this good. admire it so much I am already planning to buy more.

It is really proper footstep!! The quality is great :)

I'm 5'1 and this has come in handy several times already - when installing my cross rails and also my ski rack. It's super easy to use and feels very sturdy when I'm standing on it.